MusclePharm
Natural Series Organic Superfoods
, 30 Servings Unflavored
Gluten-Free Plus Contains No Artificial Ingredients, Soy Or Dairy
Includes Full Spectrum Of Digestive Enzymes And Probiotics
Product Overview

Powerful
Raw Nutrition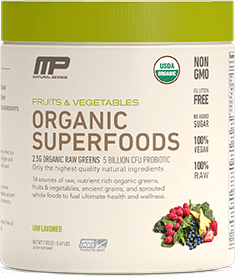 Fruits & Vegetables
Superfoods
MusclePharm® Organic Superfoods helps power your active lifestyle, with a healthy blend of greens, fruits, vegetables, ancient grains and sprouted whole foods working together in harmony. Start your mornings right, each and every day.
2.5g Organic Raw Greens

Key Features
Organic Raw Superfoods
5 Billion CFU Probiotics
No GMO

s

No Added Sugar
Gluten-Free
No Soy or Dairy
Vegan
No Artificial Ingredients
How To Use It
Mix one serving (1 scoop) with 8-12 fl. oz. of cold water, juice or your favorite smoothie.
Ratings & Reviews
What's in MusclePharm Natural Series Organic Superfoods
Serving Size 1 Scoop (7.4 g)

Servings Per Container

30

Amount Per Serving

% DV*

Calories

20

Sodium

5 mg

<1%

Total Carbohydrate

5 g

2%

Dietary Fiber

2 g

8%

Sugars

0 g

Protein

1 g

2%

Vitamin A

678 IU

14%

Vitamin C

6 mg

10%

Calcium

20 mg

2%

Iron

3.25 mg

18%

Organic Super Greens Blend

2.5

g

†

Organic Wheat Grass, Organic Oat Grass, Organic Barley Grass, Organic Spirulina, Organic Chlorella

Organic Sprouted Whole Superfood Blend

1,995

mg

†

Organic Sprouted Navy Bean, Organic Sprouted Lentil, Organic Sprouted Garbanzo, Organic Broccoli Sprout

Organic Gluten-Free Ancient Grain & Fatty Acid Superfood Blend

1,995

mg

†

Organic Amaranth, Organic QuinoaTrim® Quinoa, Organic Buckwheat, Organic Millet, Organic Chia

Organic Super Fruit & Vegetable Antioxidant Blend

456

mg

†

Organic Coffeeberry® Fruit, Organic Acerola, Organic Acai, Organic Goji, Organic Pineapple, Organic Strawberry, Organic Raspberry, Organic Blueberry, Organic Tart Cherry, Organic Elderberry, Organic Cranberry, Organic Broccoli, Organic Tomato, Organic Carrot, Organic Spinach, Organic Kale

Probiotic / Prebiotic / Digestive Enzyme Blend

250

mg

†

Organic Acacia (Acacia Seyal) Prebiotic Fiber (200 mg)

Probiotic Blend

5,000,000,000

CFU

‡

Lactobacillus acidophilus, Lactobacillus plantarum, Lactobacillus rhamnosus, Bifidobacterium lactis, Bifidobacterium bifidum

Digestive Enzyme Blend

Protease 20,000 HUT, Amylase 1,000 SKBU, Lipase 100 FIP, Cellulase 1,000 CU

Organic Inner Filet Aloe Vera (Aloe barbadensis) (Leaf)

150 mg

†

* Percent Daily Value based on a 2,000 Calorie Diet

† Daily Value Not Established ‡ At Time of Manufacture

ALLERGEN WARNING: This product was produced in a facility that may also process ingredients containing milk, eggs, fish, shellfish, tree nuts, peanuts, wheat, and soybeans.
Directions For Natural Series Organic Superfoods: Mix one serving (1 scoop) of MusclePharm® Organic Superfoods with 8-12 fl. oz. of cold water, juice, or your favorite smoothie.
Warnings: This product is intended as a dietary supplement only. Do not use as a sole source of nutrition. Do not use this product if you are pregnant, expect to become pregnant or are nursing. KEEP OUT OF REACH OF CHILDREN.
* These statements have not been evaluated by the Food and Drug Administration. This product is not intended to diagnose, treat, cure, or prevent any disease.
---