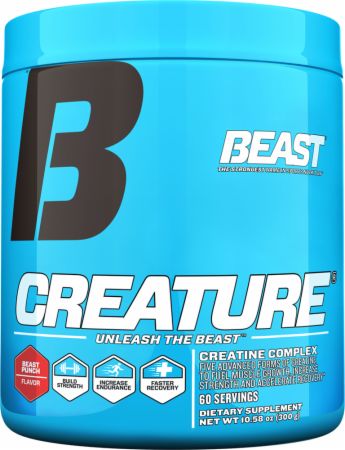 Beast Sports Nutrition
Creature Powder
4G Of Professional Strength Creatine Blend For Building And Sustaining Muscle*
Optimizes Strength, Enhances Endurance, & Accelerates Recovery*
Ratings & Reviews
Creature Powder
Overall Rating
9.4
556 Ratings
Verified Buyer Rating
9.4
313 Ratings
Average Flavor Rating
9.1
7 Flavors
Top Rated Flavor
9.2
Citrus
By clicking the button above, you agree to entering the Bodybuilding.com Reviews section. Products in the Store are not intended to diagnose, treat, cure, or prevent any disease.

I wish I could comment on the efficiency of the product but I do not have enough experience with creatine in general to do so. I will comment on the flavor and solubility. Both are very inconsistent. I bought this product for the first time in Dec 2020 and it mixed in well and the taste was non-existent. I prefer unflavored to be sincerely unflavored. I liked this product and ordered it again mid February. I just received it and am quite disappointed. It does not mix in well, even after adding more than enough water. I did 20oz with one scoop and use an electric mixer and there were still small lumps and grains of the powder. The worst part of all is that this one has a flavor to it. A weird chemically taste that makes me want to gag. Now I wonder about the reliability of the manufacturer of this product. Has anyone else experienced this? Maybe it was just my bad luck on getting a bad batch.
Was this review helpful?
Report
The flavor was great, but lets be honest, the flavor isnt why people take creatine. The taste is great, the flavor is great, but the effects are questionable at best. It looked like a great product from all the online information, but it caused me a lot of stomach cramping (when only using twice a day as recommended). Some of the worst bathroom trips of my life as well. The worst part was that and even after a month of use my lifts didnt really continue to improve- I switched over to something simple like Universal Creapure and things got a lot better. I really wanted to like this product but it just wasnt for me.
Was this review helpful?
Report

I'm writing this review a little late, I took a couple bottles of Beast and it was awesome! The Flavor of the Citrus mix was great and I remember making gains and staying motivated, but then they changed the formula and the color of the bottle to this blue one and it sucked, every time I took it my stomach got super sick and I wasn't be able to exercise that day(this happened every time I time I took it and I would take a space out trying the stuff). I finally through that junk away as I couldn't in good conscious give it away. If they bring back the old formula I'll be back but as far as I know this is the same crap that got me sick. PS I've heard others have the same issue, stay away...
Was this review helpful?
Report

I really like this stuff. I wish they would bring back grape but the Citrus was pretty good. It was a little strong the first few times but you get used to it pretty quickly. I've tried alot of other products and this one just makes me feel like I can keep going and going. Bring back grape!
Was this review helpful?
Report

This was one of my first creatine's and is in my top 2 all time. Taste: fruit punch is not bad but the other flavours are soo much better. You cant go wrong when it comes to flavour. Only thing is you will not get bored of the pink or citrus even when you finish it. Mixture: mixes well but as any creatine you have to keep shaking it while you drink. Results: you will start to feel a difference in 2-3 weeks. You will see a difference in5 weeks. To put it simply, 3 weeks into supplementation you will feel and train like a beast. You will feel like you can do any weight. This is good because you wont plateau. Price: it is not cheap or expensive so try to buy it when they have a sale. If i was only rating the results i would give it a 10. But i am giving it a 9 because it still has small negatives. For exanple, you might feel a bit heavier after drinking it (not bloated) in comparison to taking creactor by muscletech. Also the mixing is average, and the price is not bad but could be better. Regardless, if you want results this is definitely a great product.
Was this review helpful?
Report
Love this stuff and it mixes well with Essential AmiN.O. Energy. Do yourself a favor and buy some! I use unflavored so i can mix it with anything really.
Was this review helpful?
Report
No written review.
Was this review helpful?
Report

Honestly, this stuff has really worked for me. My strength has increased by huge amounts. My bench has increased, my squats are more stronger, just overall strength 100% would recommend this to anyone
Was this review helpful?
Report

Ive been using beast creature for about a year now. It seems that they have changed the beast punch formula and not for the best. This will be the last time i use this creatine.
Was this review helpful?
Report

Hands down to the best tasting creatine ever! Been using this for quite some time now and man...it truly delivers! Really improved my overall strength and endurance, not to mention rapid muscle recovery and of course GAINZ. 10/10 would recommend to all my bros and sis out there. I can't believe Beast Sports Nutrition is way too underrated, kudos to the company for making quality products.
Was this review helpful?
Report

Used this three years ago. Great results. Just bought again and noticed no longer lists Creapure Brand on label.
Was this review helpful?
Report

Loved this product. Really did help my over strength in the long run. Would recommend all of you guys to get it
Was this review helpful?
Report

can i use this creatin with bcaa(on) after workout?
Was this review helpful?
Report
Gotta admit I was skeptical. Reason being its another proprietary blend.I really dislike Proprietary blends. I'd prefer to know the exact dosages of each creatine form that's included in this product.That's the reason of my rating. But In favor of it, I have to say that Beast uses Patented forms from reputable companies. I felt good improvement on performance and strength.Recovery is good. So that means it delivers what it says. Thumbs up for that. Overall it's a good product. I would recommend this if you don't think consuming a proprietary blend is no big deal. Pros: Patented ingredients from reputable companies, No bloating, mixes well, various forms good quality creatine for improved delivery, insulogenic co factors for better bio availability. Cons: Proprietary blend so you'll never know the exact dosages of your intake for the various forms of creatine(five to be exact)Cheap packaging tears apart when you open it, Price.
Was this review helpful?
Report
This is the creatine you should be taking !!! I tried many different types and brands in search of a creatine that I could see results from. This is it. I will train without it, but I had rather not. I do not personally experience any weight fluctuation from this product, or water retention. My endurance level with creature is amazing. I take one scoop with a pre-workout 30 minutes prior to my workout, and I usually have to make myself leave because I am wanting to add extra sets or exercises to my routine, and a second scoop with my post workout meal. I use one scoop on cardio days, after exercise with a meal. Regardless of gender, I would highly recommend giving this product a try !!!
Was this review helpful?
Report